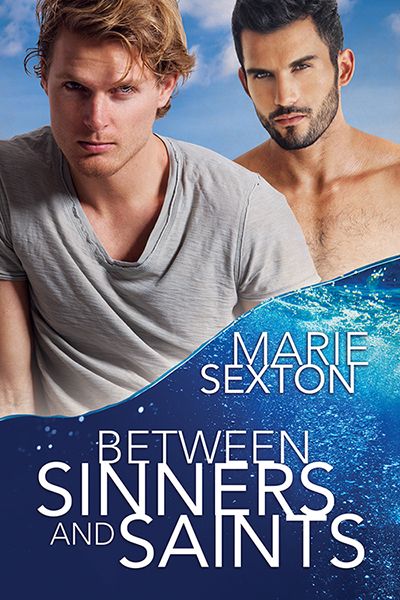 Between Sinners and Saints
1st edition: May 29, 2011, Amber Allure
2nd edition: April 2016, self-published
Levi Binder is a Miami bartender who cares about only two things: sex and surfing. Ostracized by his Mormon family for his homosexuality, Levi is determined to live his life his own way, but everything changes when he meets massage therapist Jaime Marshall.
Jaime is used to being alone. Haunted by the horrors of his past, his only friend is his faithful dog, Dolly. He has no idea how to handle somebody as gorgeous and vibrant as Levi.
Complete opposites on the surface, Levi and Jaime both long for something they can only find together. Through love and the therapeutic power of touch, they'll find a way to heal each other, but can they learn to live as sinners in a family of saints?
This title was previously published by Amber Allure. It has been re-edited, but the content is unchanged.
BUY IT HERE:
Paperback:
Audiobook:
Translations:
Winner of the 2012 CRW Award of Excellence
Here are some lovely photos for you, in case you missed them earlier. This is Levi: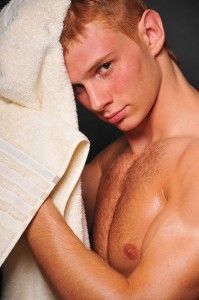 And this is Jaime:
Aren't they gorgeous?
Below is a tiny little excerpt from Levi's first massage appointment with Jaime. Enjoy!
*****
Jaime's hands were incredibly soft. He didn't rub hard at first. He seemed to be exploring the muscle high on Levi's thigh with his fingers, watching Levi's reaction.
"Does it hurt here?"
"Not as much."
"And here?"
"Yes, more there."
"And is it focalized, or does it radiate out to other places."
"It's just there."
"That's good." His hand slid toward the inside of Levi's thigh, and Levi tensed. "Just relax, Mr. Binder." At least he pronounced it right.
"Please don't call me that."
"You prefer Levi?"
"Yes."
"Okay, Levi. Try to relax." But Levi was finding it very difficult to relax. Jaime's soft hand was moving slowly up the inside of his thigh, stopping every inch or two to press into the muscle before moving on, and Levi's body was reacting in a way which he feared was wholly inappropriate, given the circumstances. "Relax," Jaime said again.
"I can't!" Levi snapped.
"Don't worry about it," Jaime said. His tone was clinical. Professional. Detached. "It's a common physical reaction. You don't need to be embarrassed."
"That's easy for you to say."
"It's a natural response to physical stimulation—"
"No shit!" The stupid thing was, now that they were talking about it, it was only getting worse. He was pretty much flying full mast now, and the thin sheet covering him certainly wasn't hiding it. "Are you almost done?"
Suddenly Jaime pushed harder on his tender thigh. It hurt so much Levi just about jumped off of the table. "Ow! What the hell? Did you do that on purpose?"
"Took your mind off your other problem didn't it?" Jaime said, without cracking a smile.
"You're a little bit sadistic, aren't you?"
"You're not the first person to think so."