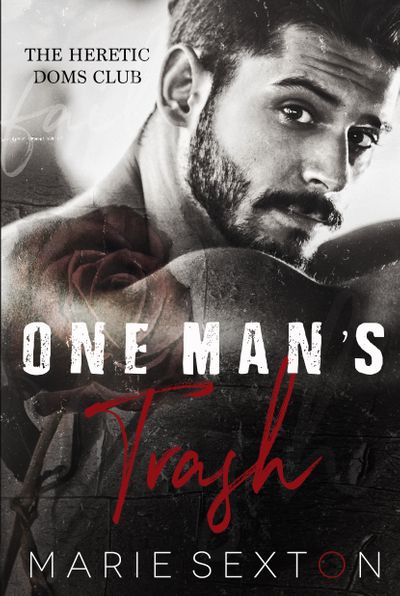 One Man's Trash
Book 1 of the Heretic Doms Club
Nov 11, 2017, self-published
After four tours in Afghanistan, Warren Groves couldn't settle into civilian life. For the last twelve years, he's survived by working odd and often illegal jobs for some of Denver's less fortunate. His personal life is equally unsatisfactory. He can barely remember the last time he had sex, let alone the last time he got to use somebody hard and rough, the way he likes. Fate intervenes when a favor for a friend leads him to a pretty young rentboy named Taylor Reynolds.
Taylor's spent the last few years on his own, working as a hustler, going home with anybody who'll give him a warm meal and a place to sleep. He enjoys having a bit of force used against him, and he makes Warren an offer he can't refuse — all the sex he wants, as rough and dirty as he likes, in exchange for room and board.
At first, Warren thinks he's struck gold. Taylor's the perfect roommate — he cooks, he cleans, and he's dynamite in the sack. But Taylor has some dark demons in his head and some even darker cravings. Falling for somebody as volatile as Taylor is dangerous enough, but when Taylor's urges turn truly self-destructive, it'll be up to Warren to decide just how far to let things go.
Buy Here:
Translations:
One Man's Trash will be book 1 of The Failed Heretic Doms series. For more details about how this came to be, and what the rest of the series will look like, see below.
The Failed Heretic Doms Club
This project will take some explaining, so bear with me.
Once upon a time, Shotgun was supposed to be set in Tucker Springs, not Coda. In that first version, Lamar was a professor at Tuck U. He was being stalked (just like in Shotgun), and in the very first chapter, a cop showed up to take the report of his car having been vandalized.
The problem?
That cop (whose name was Gray) was determined to get Lamar into bed. Not since Angelo have I produced such a hard-headed character. Every time Gray showed up, he tried to seduce Lamar. So, I made him a deal. I promised to write him a story, where he'd get an HEA with Lamar's ex (who, in that version, was a rich-boy college student). I even started the story, although I only wrote a few scenes, just to get Gray off my case.
Well, Shotgun kept stalling. Then Tucker Springs ended. I picked up the entire story and moved it to some fictional town in Oregon. (Hence, all that rain in the first chapter, which really doesn't fit in Colorado, but whatever.) Still, the story went nowhere.
At some point, somebody suggested I move the story to Coda. I balked at first. I didn't want to go back to Coda. But then, I re-imagined that first chapter with Matt instead of Gray, and suddenly, everything fell into place. Matt would never try to seduce Lamar, but he gave me a perfect excuse to introduce Lamar to Angelo. And so Shotgun was eventually moved to Coda, finished, and released.
But What About Gray?
Meanwhile, Gray and his college-student boyfriend languished in my "trunked" folder until early this year, when I needed something to share on Patreon. I pulled out what I had — mostly sex with mild BDSM elements — and I started wondering whether I could make it into a story.
Shortly after that, I realized I also have this *other* abandoned story involving a pharmacist. That story also had mild BDSM elements, so it occurred to me I could put my pharmacist in Gray's story (in the spot previously occupied by Lamar), and I'd have two books set up for a new contemporary series. Seemed like a good idea.
Over the next few weeks, I kept banging my head against Gray's story line. I decided to take Gray in a really rebellious direction, and I still intend to do that. But then I started thinking even grittier. I switched Gray's love interest, turning him from a spoiled rich kid into a very damaged young man who'd been turning tricks. That story had real traction, and I added more and more to it in my head over the next few days. Except — for reasons I've already forgotten — Gray couldn't be a cop anymore. In short, I'd moved so far away from that original concept of Gray that I eventually realized I now had a THIRD story to add to my new series — a scarred war veteran and the damaged hustler.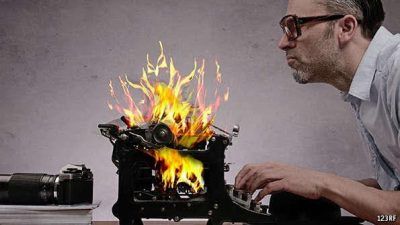 Time to Jump In
So, I sat down and started writing. I started with the last story I'd come up with — the new character, and the damaged rent boy. And holy cow, did I take off running. I wrote 30,000 words in three days. For me, that is EPIC. Of course, I could never keep up that pace for long. Plus I had all kinds of personal stuff come up. As of July 7th, it's sitting at about 92k, and probably has another 10-15k to go. I hope to finish the first draft by July 14th, at which point I'll spend a few weeks on beta reading and revisions.
For the record, this story turned out to be incredibly raw and gritty. For those who've read Release, this story is almost that level of heat and kink. I'm not sure yet if the rest of the series will be that sexual, but this one definitely turned out to be more erotic than most of my other books. And be warned: it just might break a few rules.
The Series
The rest of the series breaks down like this:
One Man's Trash – war veteran Warren and the damaged whore – Nov 13, 2017
Terms of Service – Pharmacist Phil and the doctor – June 2018
Gray the cop and his spoiled college-aged boyfriend (working title, Spare the Rod) – date TBD
Their fourth friend Charlie with… somebody I haven't met yet – someday down the road
[Addendum: I had initially hoped to publish these books every three months, which would have had the whole series out in 2018. What I failed to take into account is that these books are about 120,000 words long. That's about twice my usual length, and they're taking me twice as long to write. Terms of Service will be released June 25. Spare the Rod will hopefully be released in late 2018, but it's more likely it'll be in early 2019. And Charlie's story… I have no idea whatsoever.]