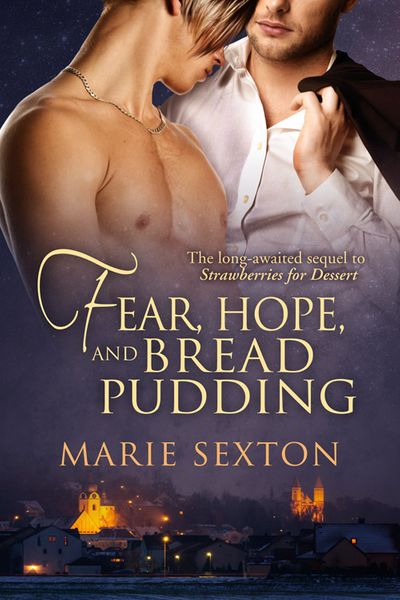 Fear, Hope, and Bread Pudding
Families should grow, not shrink. It's been on Jon Kechter's mind since before he tied the knot with his millionaire lover, Cole Fenton. Now hoping to adopt, Jon and Cole search for a mother-to-be willing to let them love her baby, but the interminable wait is wearing on them both.
Jon is close to his father, George, but until Cole, he didn't have anyone else. Now George is pushing Cole to reconcile with his estranged mother. When the three of them spend Christmas with her in Munich, the results are disastrous. Jon and Cole resolve to stay positive, but no hope exists without a tinge of fear. Jon and Cole can't help but wonder if their dream of being parents just wasn't meant to be.
Sequel to Strawberries for Dessert.
Coda: Which book do I read first?
Translations:
This title is currently out of print. We apologize for this temporary inconvenience.
What does "out of print" mean? Why is it out of print? How can I read it? The contract with the original publisher has ended. That means they can no longer legally sell the ebook, although you may still be able to find paperback copies online. The ebook will be re-released by the author as soon as possible (sometime in the next 2-4 months).
How will I know when it's available again? The best way to stay up-to-date on re-released titles is by joining Marie's (100% drama-free) Facebook group, or by signing up for her monthly newsletter. (You'll even get a free short story for joining.)
Originally published June 5, 2013 by Dreamspinner Press