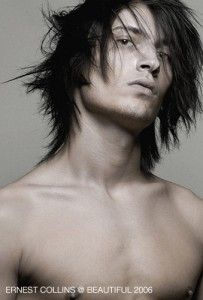 When I first saw this image, I said to my friend Ethan Stone, "This is almost Angelo." Sure, Angelo's skin is darker than that. And his hair is a little thicker, and I never pictured it quite that messy. And Angelo looks younger (even though he isn't). Plus, this guy obviously has facial hair, while Angelo does not. All those things made him not quite exactly right.
But the attitude was perfect. 100% Angelo.
Maybe it's the attitude that did it.
Whatever the reason, over the next few days, this picture became Angelo for me. I fought it for a while, but I think I'm giving in now. I know some readers prefer to have their own mental image of characters (actually, I think I'm one of them). But I couldn't resist sharing, because when I see this picture, I hear Angelo's voice in my head, loud and clear. You know what he's saying, right?
"What the fuck ever."
Update 2/5/11: This picture in my Tumblr is also an absolutely perfect Angelo.
Oh! And this one!