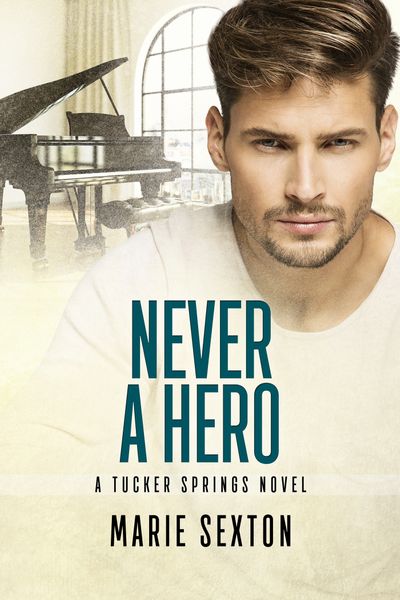 Never A Hero
Owen Meade is in need of a hero. Sheltered, ashamed, and ridiculed by his own mother for his sexuality, his stutter, and his congenital arm amputation, Owen lives like a hermit, rarely leaving his apartment. He hardly dares to hope for more… until veterinarian Nick Reynolds moves in downstairs.
Charming, handsome Nick steals past Owen's defenses and makes him feel almost normal. Meeting his little sister, June, who was born with a similar amputation, helps too. June is fiery, demanding, and always seems to get her way. She even convinces Owen to sign up for piano lessons with her. Suddenly the only thing standing between Owen and his perfect life is Nick. No matter how much he flirts, how attracted to Owen he seems to be, or how much time they spend together, Nick always pulls away.
Caught between his mother's contempt and Nick's stubbornness, Owen makes a decision. It's time to be the hero of his own story, and that means going after what he wants: not just Nick, but the full life he deserves.
1st ed: May 13, 2013, Riptide Publishing

2nd ed: July 2019 from Dreamspinner Press
3rd ed: August 2022 Marie Sexton