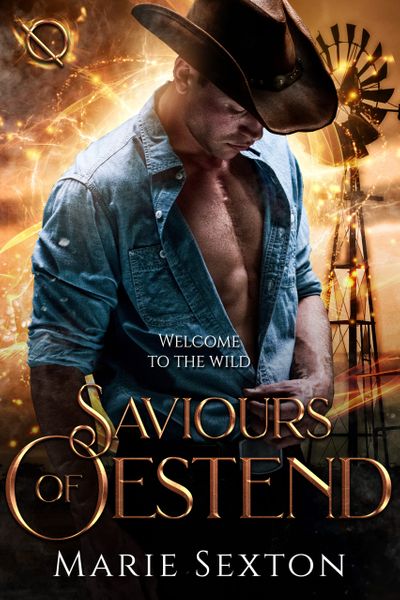 Saviours of Oestend
Life on the prairie has never been easy, but now Oestend itself seems bent on destruction.
Banished from the BarChi by the man he loves, Dante Pane must find a way to heal his broken heart while homesteading a new ranch. Unable to love women, afraid to love men, Dante wants only to find some peace. But peace is hard to come by in Oestend.
Ranch hands Simon and Frances came to Dante's ranch to help him rebuild, but they're beginning to think the place is cursed. Every building reeks of death, and strange occurrences plague the land – dead animals, unnatural weather, and voices riding wind. The men hate to return to the BarChi in defeat, but it's the only place unaffected by whatever sickness has taken hold of the prairie.
While Simon struggles with the ghosts of his past and the nature of his partnership with Frances, Dante must convince Deacon and Aren to trust him again, because there's more at stake than his ranch. Oestend is in trouble, and it will take all of them working together to set things right.
This book is a sequel to Song of Oestend.
1st Ed: June 25, 2012 by Totally Bound Publishing
2md Ed: Sept 1, 2020 by Marie Sexton
Translations:
I salvatori di Oestend – Italian